BBC FILM/ OPEN CALL FOR POLISH CHILDREN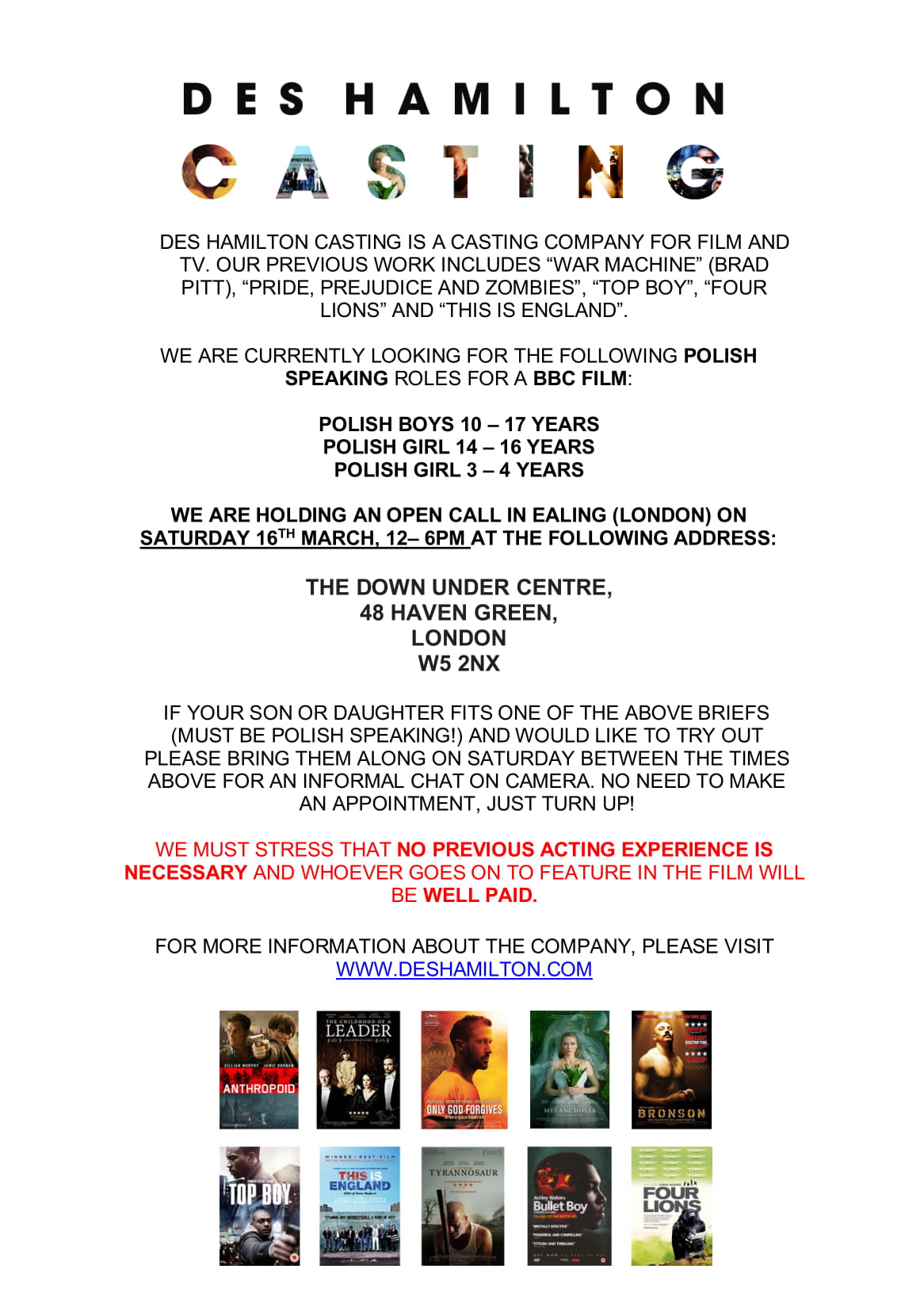 We
are a London based casting company for film and TV called Des Hamilton Casting. We are currently casting a film for the BBC and are looking for
Polish speaking children
for a number of roles:
POLISH BOYS AGED 10 – 17
POLISH GIRL AGED 14 – 16
POLISH GIRL AGED 3 – 4
We are holding an Open Call on Saturday 16th March in Ealing (London) where anyone who fits the brief can turn up for an informal audition. No appointments are necessary and there is nothing to prepare.
The Open Call will be from 12-6pm at the following address:
THE DOWN UNDER CENTRE,
48 HAVEN GREEN,
LONDON,
W5 2NX
The centre is 1 minute from Ealing Broadway tube station and you can attend at anytime between 12pm-6pm.

I cannot stress enough that NO PREVIOUS PROFESSIONAL ACTING EXPERIENCE IS NECESSARY and whoever goes on to feature in the film will be WELL PAID.
Just to give you a bit of background on our company, we are known for our unorthodox methods of casting. We often visit schools and drama groups etc. when casting for films, rather then going via the traditional actor/agent route, e.g. Des Hamilton discovered Thomas Turgoose in 'This is England' in a centre for children who have been excluded from school, and we cast a large part of the Channel 4 TV drama 'Top Boy' through visiting schools and after school clubs.